In 2011, the Bond Place Hotel was totally overhauled to give it a modern, stylish look. Whether you are staying here for work or pleasure, you are guaranteed to be given the ultimate in friendly service. Smoking is not allowed in any of the bedrooms, which are equipped with spa bathrooms and flat screen televisions. One also has the option to upgrade to a suite, junior suite or business class room. Not only this, but the Bond Place Hotel offers an up to date gym, modern reception and conference rooms. An airport shuttle service will drop you off right on the hotel's doorstep. It is perfectly located in Downtown Toronto, where Dundas and Yonge Squares meet. Hence the Eaton Centre and Toronto Theatre District are only a stone's throw away, in addition to a host of great restaurants.
The Comfort Hotel Downtown is located in Toronto's vibrant Bloor-Yorkville neighbourhood, so it is near many of the city's prime tourist attractions, as well as unique stores and galleries. Its proximity to Downtown Toronto's Financial District, in addition to its spacious meeting rooms with a maximum capacity of 100 persons, means it is also a perfect base for the working visitor. The hotel's 113 stylish guestrooms have all the modern conveniences one could ask for, and the excellent restaurant provides room service. Not far from the Comfort Hotel Downtown are Nathan Phillips Square and Toronto City Hall.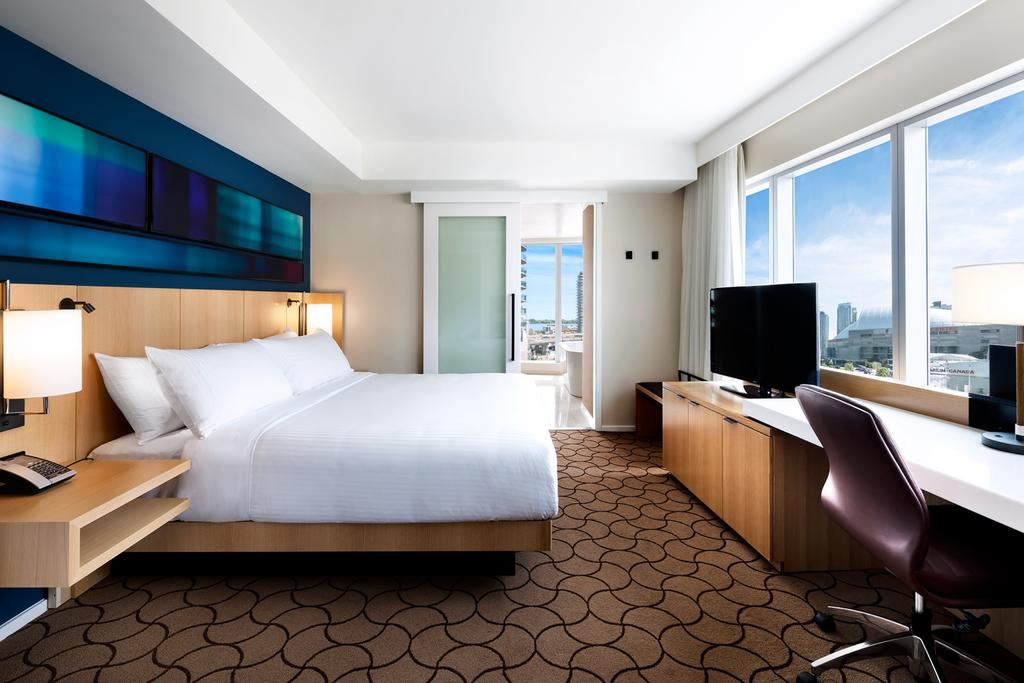 The Delta Chelsea is the biggest hotel not just in Toronto, but in Canada. It is situated right in the centre of downtown Toronto, so is quite near Toronto's CBD, government departments, hospitals and College subway station. Just down the road are Toronto's finest shopping malls, such as the Eaton Centre. Many of the city's most famous landmarks, such as Yonge-Dundas Square, are just a short walk away. You will also be spoiled by the choice of nightclubs and theatres right on your doorstep!
With an enviable location in the heart of Toronto, the Fairmont Royal York really is the place to stay when in the city. With luxurious décor, staff who will wait on you hand and foot, great food and a high tech leisure centre, you will want to return as soon as you walk out the door. In the immediate vicinity of the hotel are clubs, restaurants, shops and many sightseeing opportunities.
The Holiday Inn Toronto Bloor Yorkville is right beside the University of Toronto, in the city's Yorkville District. This neighbourhood boasts high end fashion stores, gourmet eateries and a host of places to stop for coffee and cake while shopping. Also nearby is the Annex Village, a laid-back area locally famed for its nightlife and vintage clothes stores.
The Hilton Toronto is just a 40 minute car journey from Pearson International Airport, and a short distance from Toronto Union station, so getting into and around the city is no problem at all. Access is made even easier by the Hilton Toronto's connection to the Toronto PATH system – just over 27 kilometres of connecting underground tunnel, with more than 1200 shops. This makes it the biggest subterranean retail area in the world; ideal when you want to stay away from the city's severe winter chill. However, the Hilton Toronto's bedrooms are also worth writing home about, as they offer extra large desks, wireless internet access and impressive panoramic views of Toronto.
From the bedrooms of the Radisson Hotel Admiral Toronto Harbourfront, in Downtown Toronto, guests are afforded spectacular views of the city's iconic landmark, the CN Tower, as well as Lake Ontario. Not only this, but with an outdoor swimming pool, conference rooms and state of the art gym, guests can rest assured that all their needs, and more besides, will be catered for at this upmarket yet very friendly hotel. Enjoy great food in the onsite restaurant while looking out over the Toronto skyline and the waterfront; what better way to pamper yourself, or celebrate that special occasion? The hotel's harbour location means that a range of tourist attractions, such as Air Canada Centre, the CN Tower and Rogers Centre, to name just a few, are close by. The Toronto Island Airport is also just five minutes away by car.