Lisbon is a beautiful and diverse city. There ar many things to do in Lisbon including sightseeing, eating out at one of its many restaurants or visiting some of its historic sites and buildings.
Dating from the Middle Ages, the district of Alfama is the 'Old Town' of Lisbon. Like most historic quarters, it has a unique old-world charm that makes one feel like they have stepped back in time. Situated on a picturesque knoll, this was originally where the Jews and Moors of Lisbon settled, before fishermen decided to move in. It was the one part of the city that was not razed by the earthquake of 1755; a testament to the quality of its buildings. The best way to explore this district is to get lost in its maze of narrow streets, soaking up the atmosphere as you stroll.
Avenida da Liberdade is the main thoroughfare in Lisbon, and as a result is where you will find the greatest concentration of shops (both high end and high street), cafés and theatres. There are also many stylish buildings along here; the most acclaimed are numbers 206-218. Some boast art nouveau windows, while others house a branch of Prada. The middle of the avenue is very attractive, as it is decorated with  water features, sculptures and flowers.
Avenidas Novas is the name given to the collection of lengthy, spacious avenues in the northern area of Lisbon. These avenues date from the mid 1900s, when the city expanded to accommodate its growing population. Initially, a large number of luxurious residences could be found along these avenues. However, nowadays, boring commercial premises stand in their place. Although this may not be the most beautiful part of Lisbon, the majority of visitors to the city will inevitably pass through here in order to get to the finest museums. Due to the amount of hotels here, they may also make it their base during their stay. Several high quality eateries can also be found around here, in addition to some trendy shopping malls.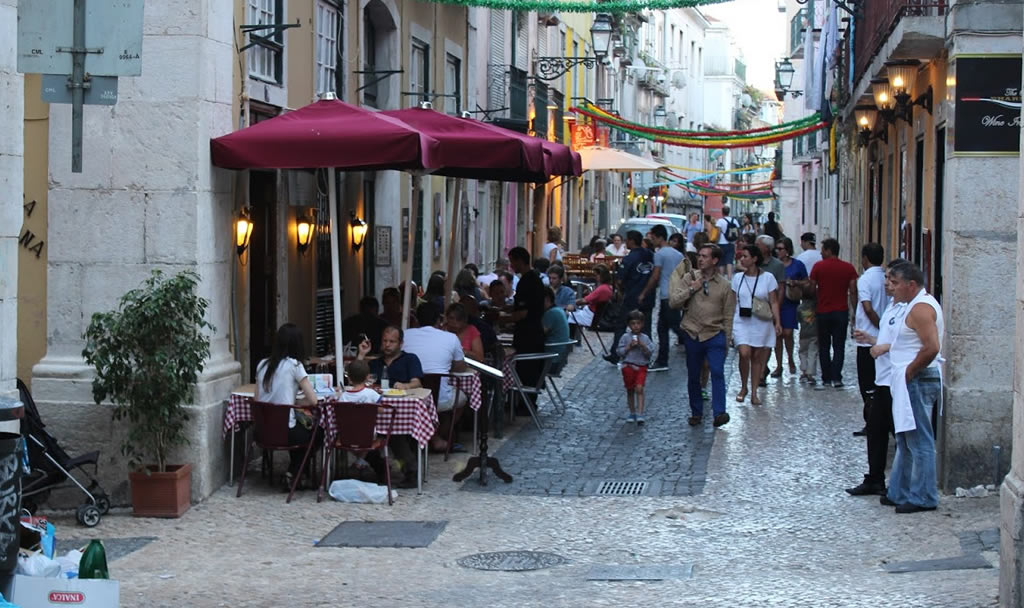 By day, Bairro Alto is deceptively quiet and peaceful. One will not find much happening here, apart from the fashionable shops on Rua do Norte. However, if you are looking for things to do in Lisbon after nightfall, this district metamorphoses into a hive of activity as the bars and restaurants open for business and people come swarming in. None of the bars are very big, so the adjacent streets (such as Rua do Diário de Noticias, Rua da Barroca and Rua da Atalaia) are filled with customers, thereby bringing the revelry outside.
Belém will be forever associated with explorers, as it was from here that Prince Henry the Navigator, Ferdinand Magellan, Bartolomeu Dias, Pedro Álvares Cabral and Vasco da Gama set sail in search of new worlds. Around Belém, one will find various museums and memorials remembering their bravery. This is also a district of awe-inspiring World Heritage Sites. Other museums in this historical district include the Berardo Museum, home to masterpieces by Picasso and Warhol, and the Coaches Museum, home to the transport of monarchs down through the years. Locals make a bee line to Antiga Confeitaria de Belém, a bakery that makes and sells some of the most scrumptious pastries in Lisbon.